Polypropylene Fibres TREVON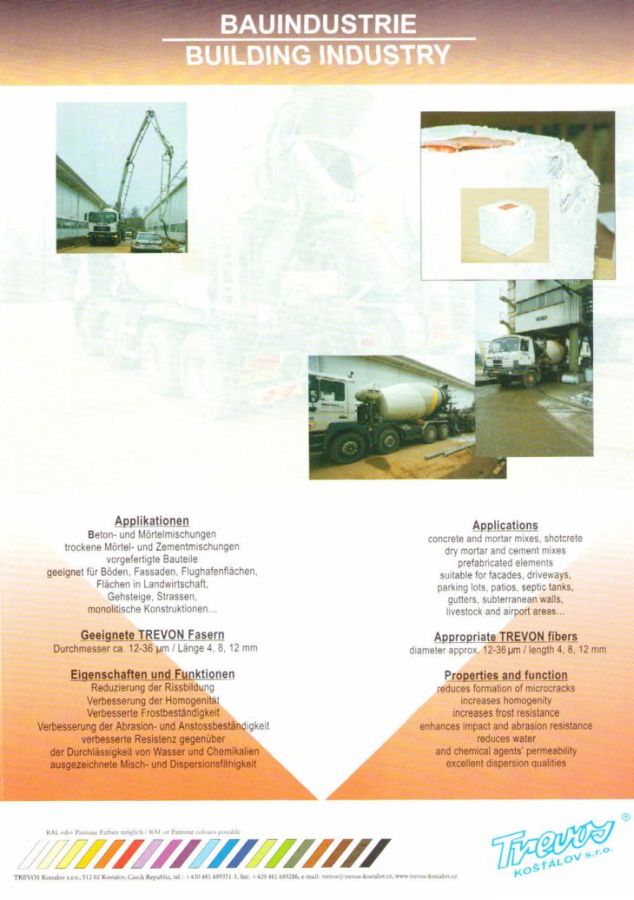 BUILDING INDUSTRY
Applications
concrete and mortar mixes, shotcrete
dry mortar and cement mixes
prefabricated elements
suitable for facades, driveways, parking lots, patios, septic tanks, gutters, subterranean walls, livestock and airport areas...
The TREVON Stavon polypropylene fibers are admixtures to add into concrete and mortar mixes. These fibers can improve properties of the mixes, provide secondary reinforcement and in particular control unsightly and troublesome shrinkage (crack formation).
The tendency for concrete and mortar to crack was accepted as natural to its use still a few years ago. Cracks in concrete or mortar that are formed during the first stage of drying shrinkage (in the plastic state) and consequently cause problems regarding lowering the integrity and strength of concrete.
These cracks are formed within the first 24 hours after the concrete has been placed. The settlement and shrinkage cracks may not be observed until some later date. They are often surface sealed by the finishing operation or are simply not wide enough to be seen until the concrete or mortar shrinks further or a load causes these weak planes to escalate into visible cracks.
The reason why cracks occur is that some stresses exist which exceed the strength of the concrete. This can be avoided by providing the TREVON polypropylene fibers to concrete structures.
These fibers are, thanks to their specific surface, able to absorb and relieve the tensile strengths during drying shrinkage (the energy is distributed into many millions of fibers). This reduction or elimination of plastic cracks then enables the concrete to develop its optimum long-term integrity.
When the TREVON fibers are added to the concrete mix the mixing action causes them to open and separate into millions of individual fibers. These fibers are uniformly distributed throughout the concrete in all directions, providing effective secondary reinforcement for shrinkage crack control. As the concrete hardens and shrinks, microscopic cracks develop. When the micro-cracks intersect a fiber, they are blocked and prevented from developing into macro-cracks and potential problems. The addition of the TREVON polypropylene fibers throughout the concrete also serves to minimize the width and length of those cracks that may appear in the hardened state.
Appropriate TREVON fibers
fineness (diameter) cca 18 - 32 µm
Cut length 4, 8, 12 mm
Functions and properties
reduces formation of microcracks
reduces plastic settlement
restrains the rate and amount of bleeding
improves elasticity and tensile strength
increases frost resistance
enhances impact and abrasion resistance
does not change the mixes' proportions, the viscosity...(because of small quantities needed)
does not affect the finishing characteristics
improves durability at surface
reduces water and chemical agents' permeability
resistant to acid and basic agents (non-corrosiveness)
does not deteriorate
excellent dispersion qualities
easy application (can be added at the central mix plant or in the truck mixer)
easy dosage (the doses can be made exactly for a given volume of the mix, e.g. 1 m 3 )
easy handling (no labor cost to place)
health harmless
high efficiency and economy (dosage only approx. 0,5 - 1,5 kg per cubic meter of concrete)
can be stored for a long time
TREVOS Košťálov s.r.o.